DETAILS
Ingredients
How To Use
Let your skin dive deep into hydration while still getting a knock-out tan! Our lightest formula yet, the Beach Hut Sunblock Tanning Water Clear Spray Body Sunscreen SPF 4 200ml spray does double-duty as a tanning agent and moisturizer that allows skin to breathe in the cool sea air. Each spray leaves your skin refreshed and mattifies into a natural tanning glow. Do away with getting pan-fried and achieve a longer lasting sun-kissed tan with Beach Hut Tanning Water
Water, Propylene Glycol, Phenylbenzimidazole Sulfonic Acid, Triethanolamine, Erythrulose, PEG-40 Hydrogenated Castor Oil, Hydroxypropyl Cellulose, Phenoxyethanol, Lactic Acid, Fragrance, Alpha Bisabolol
Water-based tanning spray
Leaves your skin feeling refreshed
Lets you achieve a longer lasting sun-kissed tan
Head to Toe Protection
For All Skin Types
For All Beach Activities
Head to Toe Protection
For All Skin Types
For All Beach Activities
Why this is good for you
Beach Hut Sunblock offers revolutionary products in sun protection.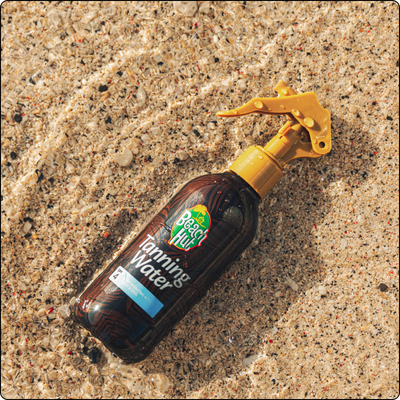 Our lightest formula yet Let your skin dive deep into hydration while still getting a knock-out tan.
So happy!
I'm so happy with this Beach Hut Tanning Water. It was so effective. It gives me the perfect tanned skin I want to achieve and also protects me from the sun coz it also have Spf4. Will surely buy again. 😊
Sobrang convenient!
I've been using their Tanning Oil ever since but when i saw this, i bought one and tried in my recent beach trip. I gotta say it feels lighter than the previous one i had! Also, super cute packaging. <3
Satisfied!
Super light as compared to the tanning oil. Love this! Will definitely buy more when i ran out of stocks.
Your questions answered
If you have specific questions or inquiries, send us an email at ineedsunblocknow@gmail.com and we'll be happy to help!