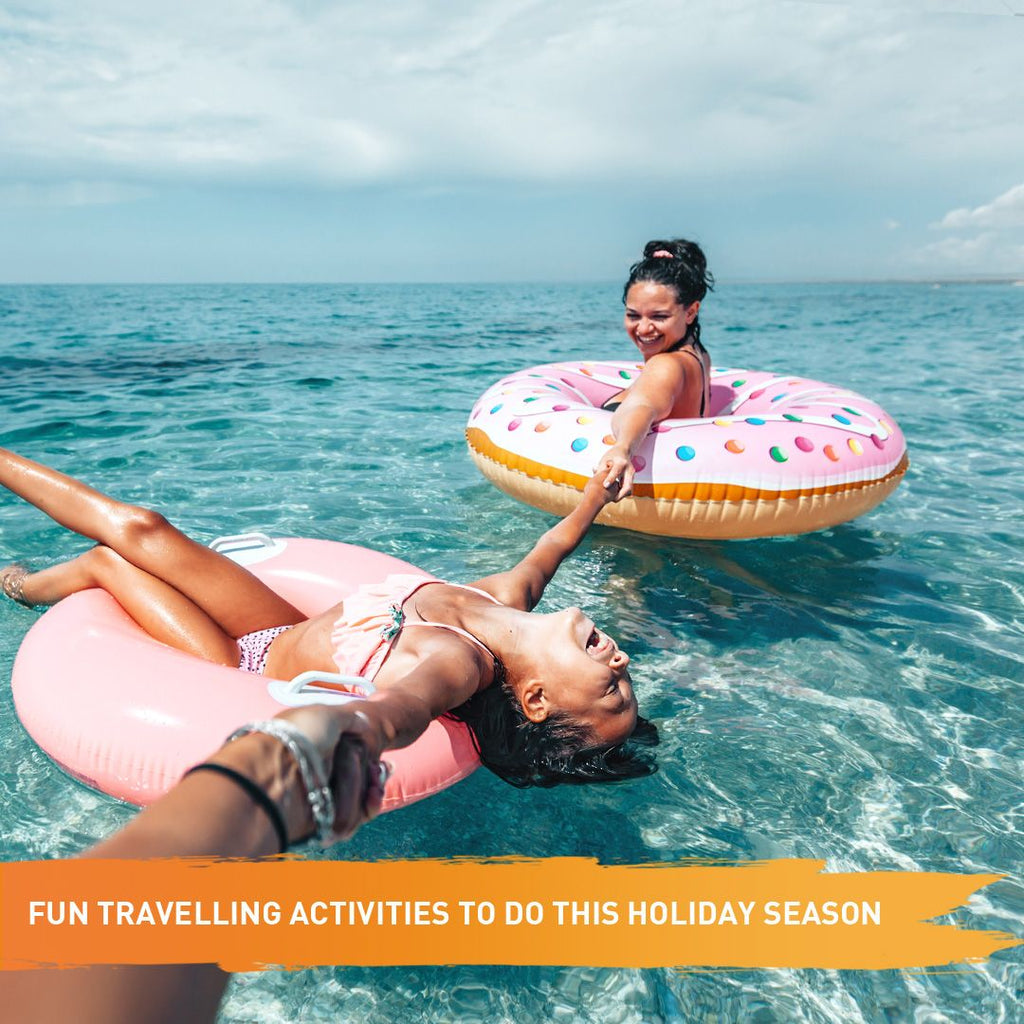 We matched these 'ber month activities with the SPFs on our nice list.
Whatever is in the air during 'ber months, can we have it all year? As early as September and most especially in these months of November and December, every day brings a festive mood, where long-overdue plans with friends and family suddenly push through and we become game enough to go out and have fun.
Living in the tropics during Holiday season brings its own kind of flavor, especially since we don't get to experience cold winter nights spent indoors. Instead, we find ourselves under the sun, making the most out of cooler weather while still enjoying the sun. So even in between the Holiday swing, sunblock is still an essential for us, such as Beach Hut's SPF Max 100 Protection line, that gives us extreme UVA and UVB protection, allowing you to go for maximum fun these 'ber months.
After two years of tight-knit, small-scale Holiday fun, we're playing matchmaker by pairing you with must-try 'ber month activities and the best Beach Hut Sunscreen fit for the job.
Boracay Food Crawl
The 'ber months give every Filipino a reason to indulge in the best meals. After all, celebrations in the Philippines are synonymous with food, and an entire season of celebrating means months and months of delicious dishes.
As a cool alternative to the traditional Christmas party, why not consider celebrating beach side with a Boracay food crawl to celebrate the holiday season?  Prepare for your Boracay food crawl by doing a quick TikTok search of videos who have done the same activity. You'll see that cool breakfast places, Mexican and Spanish restaurants and island favorite eats line the world-famous beach area which you can complete all in one trip.
For this sun up to sun down activity, a proper face sunblock is a must: the Beach Hut Sunblock Face Sunscreen Lotion SPF 65 75ml is formulated for sensitive skin, with its ultra-sensitive and hypoallergenic formula that's light on the skin—perfect for a sweaty food crawl.
A Day Trip…By Plane
It's one of the TikTok trends that excites us the most, and it works like this: you and your friends book a last-minute flight to anywhere in the Philippines, taking the first flight in and last flight out and spending less than 24 hours in your chosen city. Whether it's Cebu, Davao or Bacolod, avail of the day trip rates offered by famous five star hotel-resorts in the area, where you can have access to the beach and beach chairs, hotel pools and poolside lounges, as well as a buffet lunch to satisfy your post-swimming cravings.
For those looking for a quick and fun trip without staying overnight, this day trip by plane is composed of a travel time that's actually faster than most day trips to places nearby the city!
But even in the most last minute of trips, don't forget your sunscreen. Choose an SPF that's light and easy to carry, enough for you to apply leisurely in between your day trip stops. The Beach Hut Sunblock SPF50 Light Lotion Sunscreen 40ml is long-lasting and easy to carry around, with a clip-on packaging you can easily attach to your day bag.
Anilao Diving
The 'ber months are definitely a time where we start thinking about our New Year's resolutions, and these resolutions often involve starting a healthier lifestyle by picking up a sport or an active hobby.  We highly recommend scuba diving for people of all ages—it's an activity you could do one on one with an instructor, or as a group with your equally adventurous friends.
Scuba diving also gives you an excuse to travel outside of the city and experience the beautiful, marine life the Philippines has to offer—you don't even have to go far. Anilao has a great diving spot where you can go monthly or even weekly. What's more is that after a certain number of hours underwater, you can earn several levels scuba diving certifications. Isn't that a great way to jumpstart your New Year's resolutions?
Dive into this active new hobby with the Beach Hut Sunblock Naturals Reef Safe SPF 50, protecting not only you, but marine life as well! With SPF 50 protection, your skin is protected while complying with international laws that keep underwater creatures safe from the poisonous ingredients of non-compliant sunscreens.
Inflatable Island, Subic
We think there's no better Holiday gift to kids than taking them to the largest floating playground in Asia. Inflatable Island is an amazing trove of fun for kids of all ages—most especially for your little ones. Imagine an entire beach lined with colorful umbrellas, interactive beach toys, and any floatie and sea-bound bouncy castle you can think of. It's heaven on earth for tropical kids who love playing under the sun. 
But if there's a better time to start protecting our kids from the harmful sun rays, it's definitely during their childhood. Sun protection is a must even (and most especially) for kids, to prevent future possible issues like dark spots and skin that looks older than their actual age. For this there's the Beach Hut Sunblock Kids MAX SPF 100 ++ Clear Spray Body Sunscreen 150ml, specially made for the kids and kids at heart. Infused with Vitamin E and anti-oxidants topped with a fresh citrus scent, this heavy-duty SPF won't be a chore to apply to kids.
Don't let the 'ber months keep you from protecting your skin from the year-long sun! Head to beachhutfun.com or follow Beach Hut at @beachhutsunblock on Facebook,